It's so convenient for learning Chinese with apps these days…and what's more convenient than free apps? Today, TutorMandarin will explore the best apps to learn Chinese for free. These free apps will not just teach you a few phrases but will really start you down your language learning journey — taking you to step by step up the ladder of fluency. We've broken down the apps by cost, in-app purchases, Android & iOS availability. Ok! Let's look at the list.
Learn Chinese – HelloChinese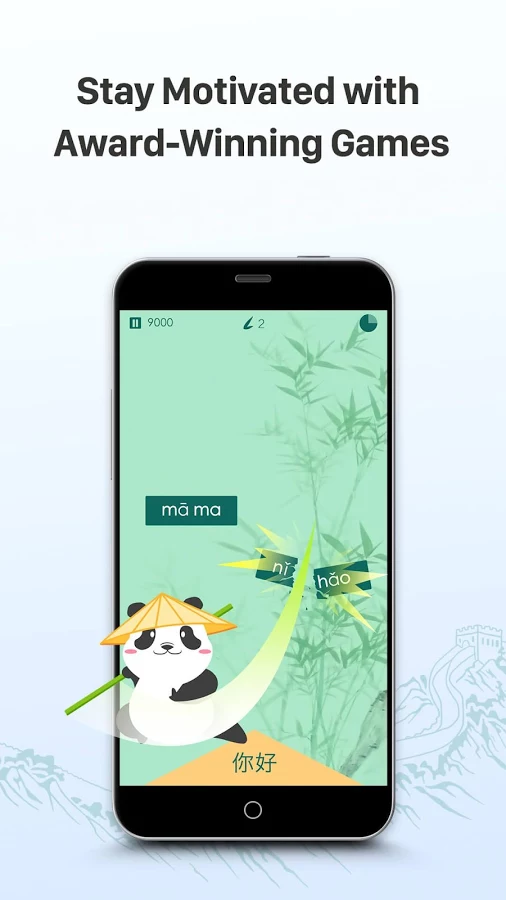 "Learn Chinese – HelloChinese" is a fun, effective and engaging app for beginners to learn Chinese Mandarin. This app is for beginners to quickly to learn enough Chinese to get to a conversational level. With HelloChinese, you will learn Pinyin, pronunciation, character stroke order, vocabulary, and grammar in an interactive way. NOTE: The main course is completely FREE forever. This app offers an OPTIONAL Premium paid subscription in addition to the free learning experience which grants you access to FANTASTIC games.
Features:
Game-based Chinese Mandarin learning: You will never get bored.

A well-designed Pinyin (Chinese pronunciation) course for beginners.

Speech recognition corrects your pronunciation and makes speaking Chinese a breeze.

Handwriting specially designed to make learning Chinese characters at a faster rate.

Personalized daily training games adapt to your unique performances and get you fluent much faster.

Systematic courses based on HSK levels.
Learn Chinese Skills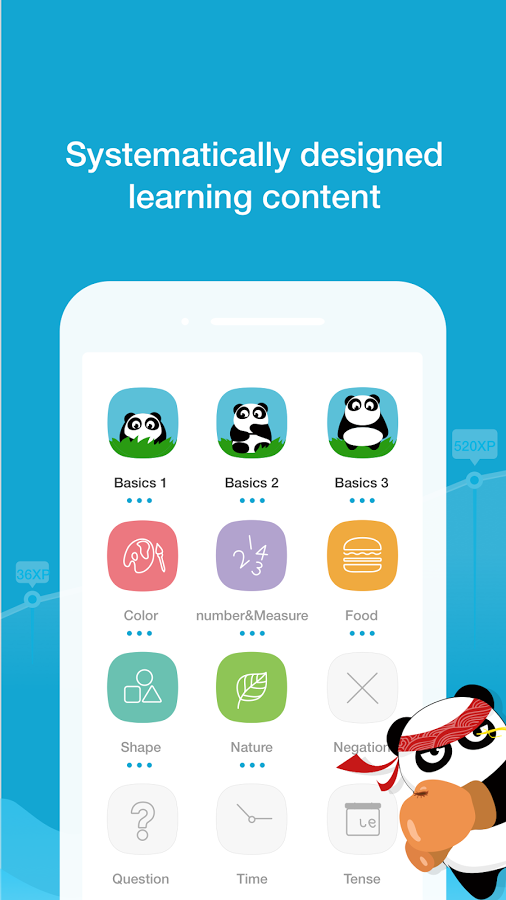 Learn Chinese – Chinese skill is the perfect app for beginners learning Mandarin Chinese On-the-Go. The app contains numerous fun and engaging bite-sized lessons that test your listening, speaking, reading, and writing ability of Mandarin Chinese language. The Spaced Repetition System, Chinese automatic speech assessment, Chinese character handwriting, and pinyin tone animation technologies are applied in Chinese skill app to make language learning more fun, easy and effective.
Highlights:
Game-based curriculum: optimized for the total beginners;

Multiple test modes: strengthen memorization and personalize learning;

Compartmentalized learning contents: designed for studying in fragmented times;

Spaced Repetition System: makes Chinese vocabulary memorization firm and efficient;
Best App To Learn Chinese: TutorMandarin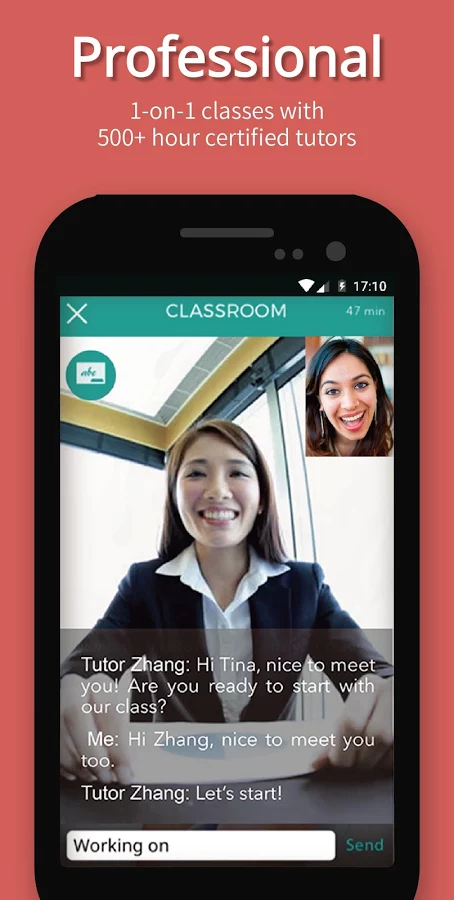 Tutormandarin states their only goal is to help you learn to speak practical Chinese. The app has a robust virtual classroom that puts to shame simple video messaging apps. Here you can experience a class with full lesson PDF on an interactive whiteboard while seamlessly switching back to the video and messaging at your convenience.
The other point here is that Tutormandarin is not just a language exchange. Tutors are professional with certifications and they are using a curriculum designed around HSK standards to the team in a systematic and efficient way. Plus all people looking to learn Mandarin get a free trial class just for signing up.
Learn Chinese-Hello Words
| | |
| --- | --- |
| Cost | Free |
| In-App Purchases | Yes |
| Android | Google Play |
| iOS | itunes |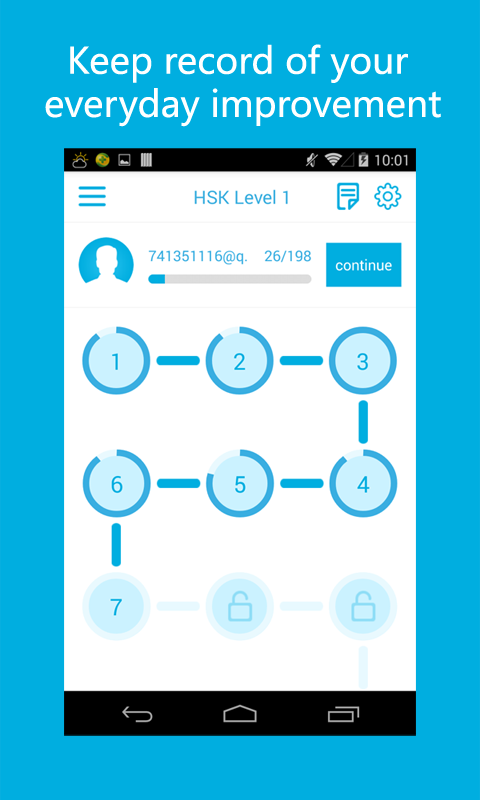 Learn Chinese-Hello Words is a Chinese app from the HSChinese team to specifically help users who want to learn Chinese words rapidly. Hello, Words includes three major courses: HSK words, Daily Chinese words, and business Chinese words.
Highlights
Hello, Words shows both the literal meaning of the word and its origin. While you still need to memorize a lot of Chinese words, this simplifies the process and aims at maximum efficiency.

Hello, Words also supports four languages: Chinese, English, Japanese and Korean. Audio, translation, parts of speech, example sentences and practice, each part is minimal in length but strives for perfection.

Learners can memorize HSK words to prepare the coming HSK test or learn Chinese words for business/everyday communications.
Learn Chinese. Speak Chinese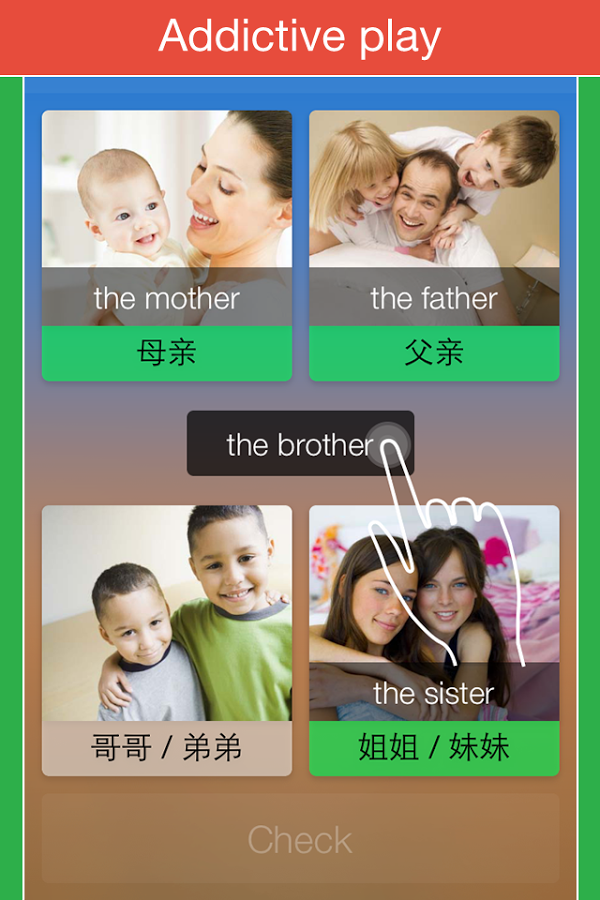 This is a great app to learn Chinese with free daily lessons. In just minutes, Mondly helps you start memorizing core Chinese words, form sentences, learn to speak Mandarin Chinese phrases and take part in conversations. Monldy gets you started with a basic conversation between two people. You quickly start memorizing core words, use them to build sentences and phrases, and at the end of a 45-minutes module you are able to reconstruct that conversation with your own voice. It's an effective way to learn Chinese phrases.

The best part of Mondly is the useful phrases for real situation. Memorizing hundreds of isolated words is not the way to go when it comes to learning Chinese. Mondly teaches you Mandarin Chinese vocabulary by offering you core words and phrases. The app breaks the learning process down into short lessons and puts them into themed packs.
Speak Chinese | Chinese Skill
| | |
| --- | --- |
| Cost | Free |
| In-App Purchases | Yes |
| Android | Google Play |
| iOS | No |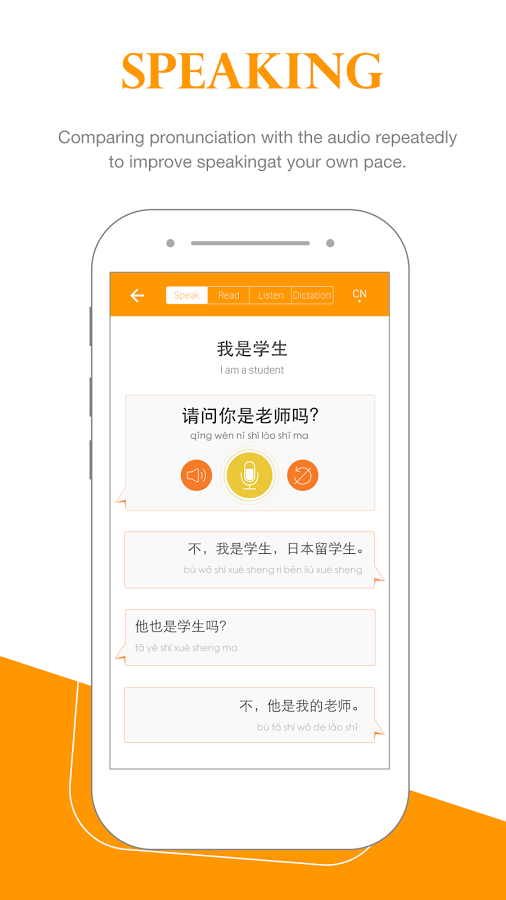 "Speak Chinese" has over 150 Chinese lessons which make it possible to be immersed in Chinese from the get-go. Just like your Chinese private tutor, "Speak Chinese" improves your listening, speaking and reading skills by organizing every knowledge points logically and consistently. The lesson topics cover 19 categories, such as business, shopping, travel, entertainment, and each lesson is composed of speaking, reading, listening training with lots of fun and interactions. This is a nice method if you want to learn Chinese for 10 minutes every day.
Learn Mandarin Chinese Basics
| | |
| --- | --- |
| Cost | Free |
| In-App Purchases | Yes |
| Android | Google Play |
| iOS |  No |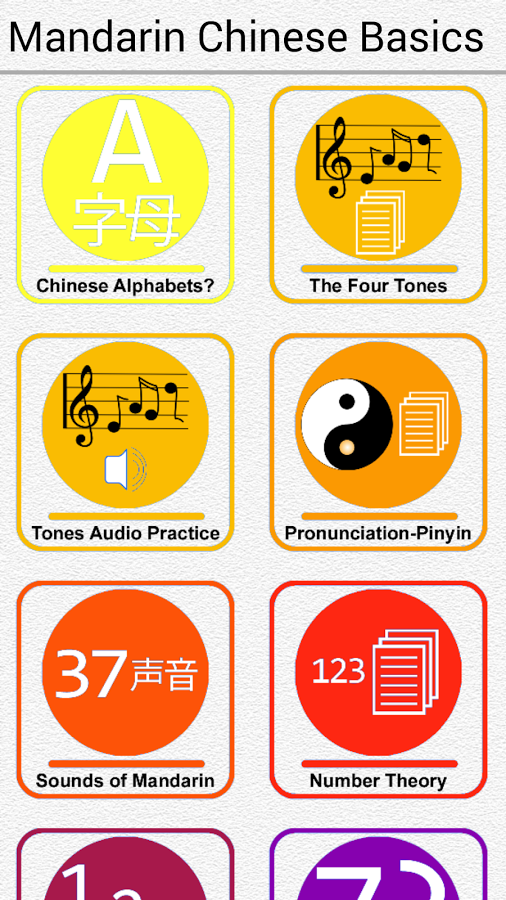 Learn how to speak Mandarin Chinese with lessons, courses, audio, activities, and quizzes, including the alphabet, phrases, vocabulary, pronunciation, parts of speeches, grammar and many more. This is an extremely basic app — but we included it because, hey, that's what some people want! Just tell me the sounds and basic words and phrase — then I'll see if I want to study the language more. 
Learn Chinese – Ninchanese
| | |
| --- | --- |
| Cost | Free |
| In-App Purchases | Yes |
| Android | Google Play |
| iOS | No |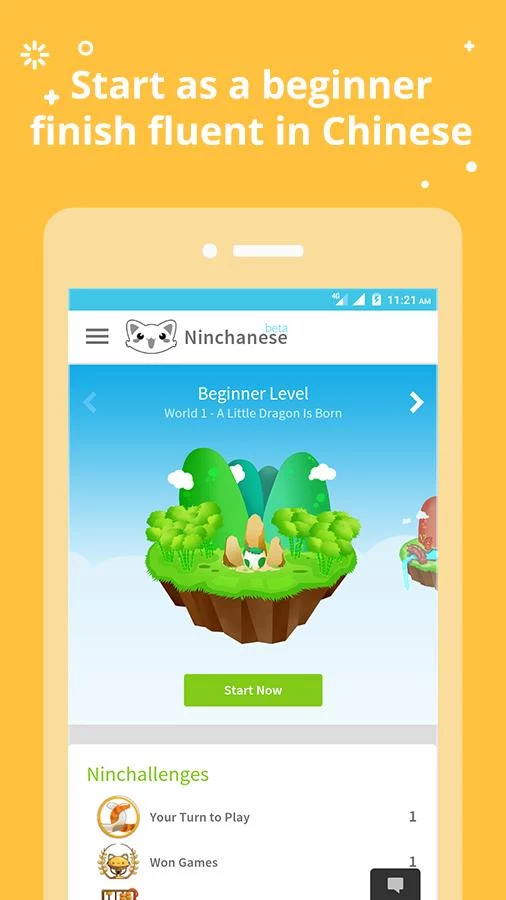 Learn to read, speak, understand and write Chinese with in Chinese. This app helps you explore the Chinese language and culture through more than 3500 lessons!! Lessons are gamified and adaptive — so you can have fun while learning efficiently. This is another great way to study in bite-sized chunks. Start with basic Chinese words, verbs, and phrases, and learn to make sentences with what you just learned. Practice speaking Chinese using our cutting-edge voice recognition and learn how to speak like a native Chinese!
Fun Easy Learn Chinese – 6000 Words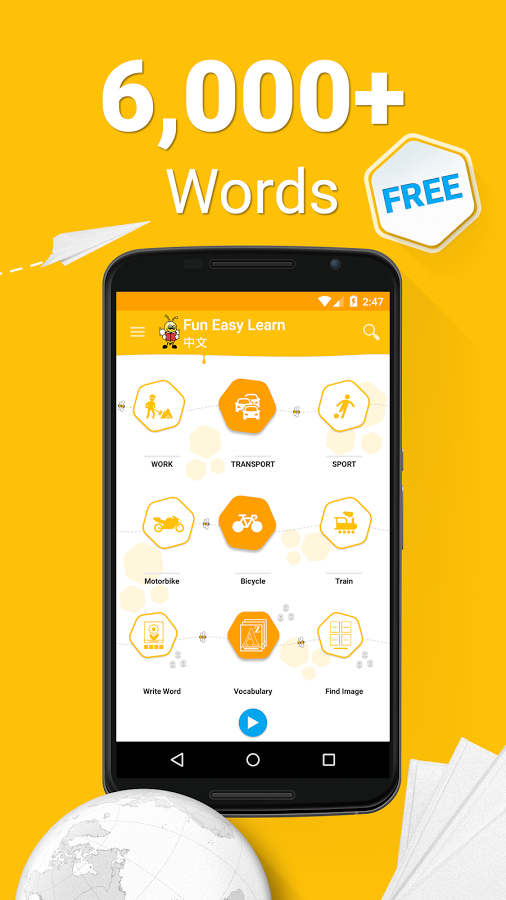 This app is true to its promise — there are 6,000 words with images, phonetic transcriptions, and recordings of native speakers. They are broken down nicely across 15 categories and 140 subcategories. Plus, this app is available in 51 different languages! So, even if you're not a native English speaker, this app might be for you!
Highlights
7 fun Chinese vocabulary games: Vocabulary, Find Image, Choose Word, Listen & Choose, Match Words, Listen & Write and Write Word.

"Review Manager" allows you to review all the words you've learned.

"Spin Categories" feature chooses topics, subtopics, and games at random.
Learn Chinese Mandarin Lite
| | |
| --- | --- |
| Cost | Free |
| In-App Purchases | Yes |
| Android | Google Play |
| iOS | No |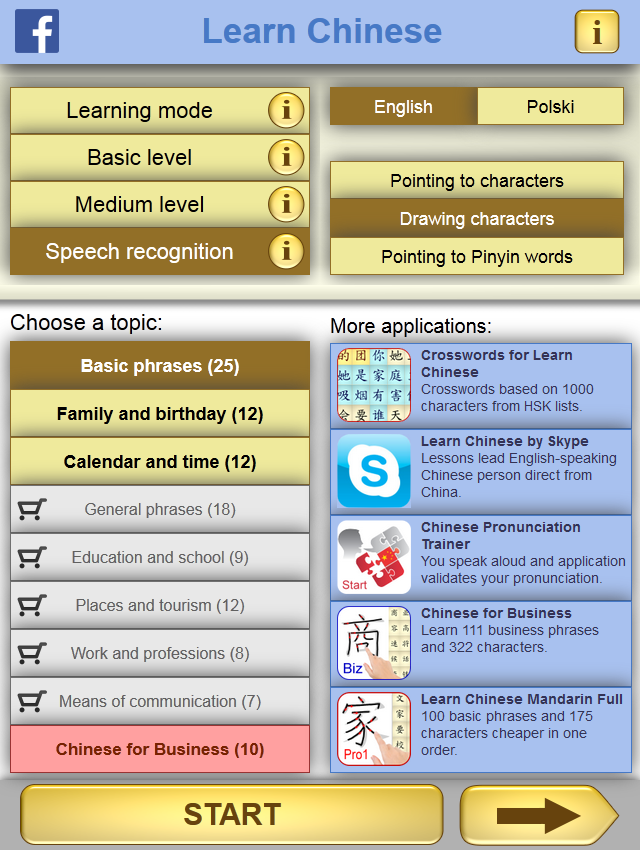 Learn Chinese Mandarin Lite quickly teaches you 25 basic and 10 advanced business phrases with pronunciation, Chinese characters, and pinyin phonetic transcription. When you see the phrase in English and hearing speech in Mandarin will be sequentially highlighted signs, to be indicated. Then go training on the following three levels of difficulty. The last level teaches to recognize phrases from the words spoken by a lecturer. In this way, you not only practice spelling but also pronunciation.