Best Chinese Translator Apps
Chinese is hard to read! There are so many Chinese words to learn that you can often find yourself in a situation where you can't read Chinese. Luckily, there are translator apps that can help with all types of situation. Finding the meaning of the word, looking up the character based on the picture, drawing the characters and seeing the English word, etc etc etc. Today, we've chosen the best Chinese translator apps for every Chinese learner — so you have help right in your pocket. See our list below!
Chinese English Dictionary & Translator Free 英漢字典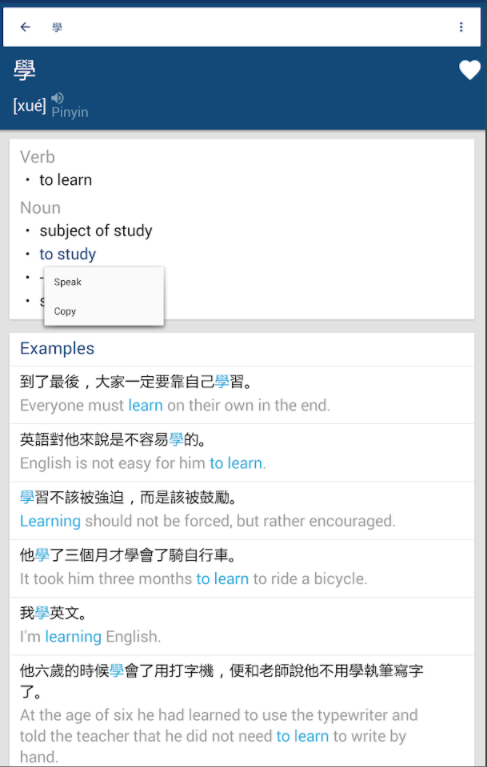 英漢字典 is one of the best apps for translation. This app enables you to search both Chinese & English words with definitions, examples, pronunciation, and more. Get this app for FREE.
Features
Detailed word definitions & example sentences.
Favorite words and search history.
Flashcards for self-learning support.
Mandarin & Cantonese pronunciation.
Customizable font sizes for better readability.
English, Chinese, Pinyin & Wildcard character search support.
Chinese Translator, Dictionary – Waygo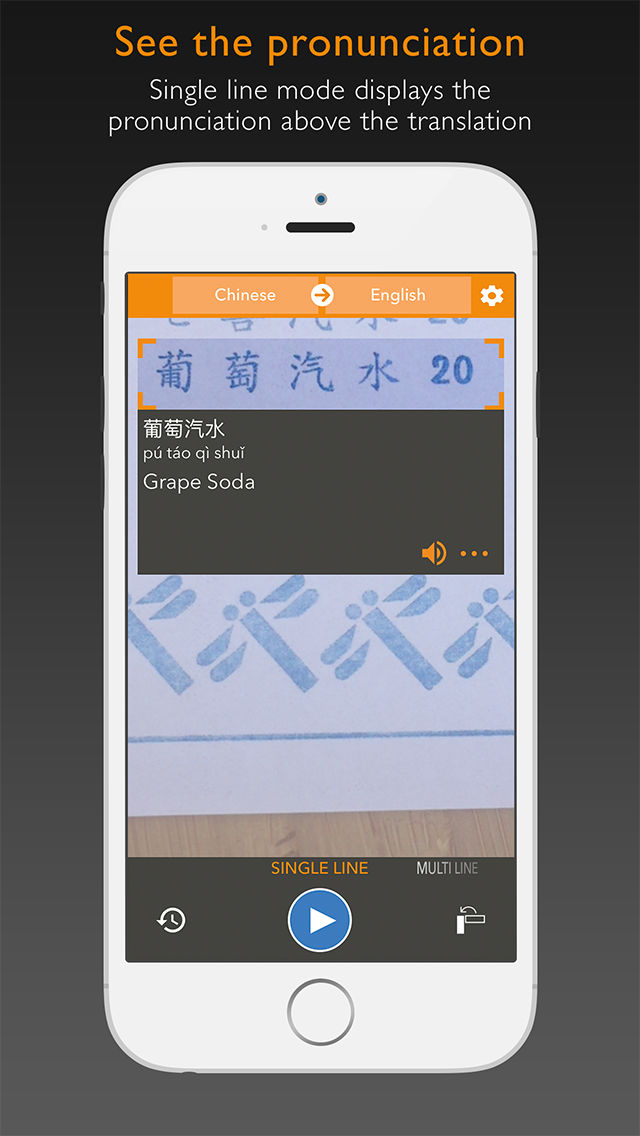 Waygo app is one of the must-have apps for everyone. This app includes not only Chinese language but also Japanese and Korean language. It is a very helpful app for language learners. If you plan to travel throughout Asia, this one will be very useful and helpful. Instantly translate printed Chinese, Japanese or Korean text to English using your smartphone camera. No data connection needed. Very easy to use!
You can check out for more about Waygo here – Waygo
Features
Use your video camera as a visual translator or dictionary (camera flash required).
No data connection required.
See the pronunciation of the words.
Simply point and translate foreign text into English.
Share your translations through SMS, Facebook, Twitter, and Email.
Pleco Chinese Dictionary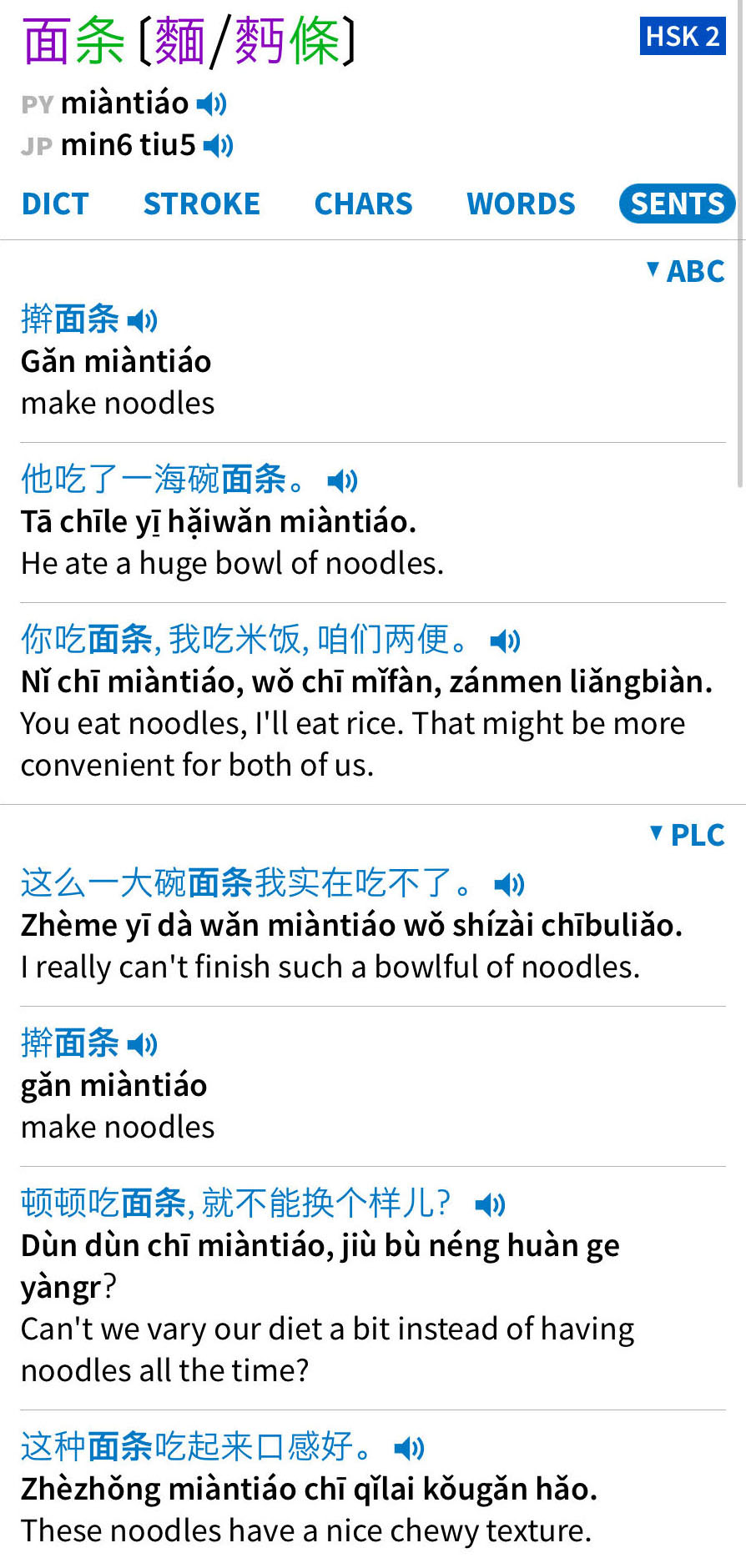 Everyone should have this Pleco app for translating and just learning the Chinese language. It is a very useful dictionary and is used by almost all Chinese learners. There are tons of add-on feature to support your Chinese learning journey. You can search in a lot of different ways in it – Chinese (Pinyin/Zhuyin) to English, English to Chinese and Camera-based Chinese camera (OCR) and etc.
Check out for more about Pleco here:
Pleco
TutorMandarin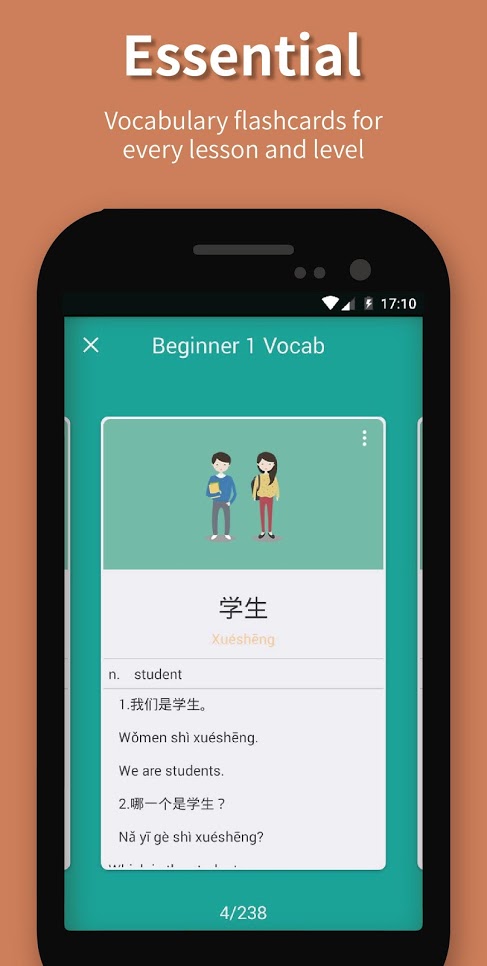 TutorMandarin has full courses from beginner to advanced with 45 lessons in each course. All pinyin and beginner 1 lessons are free to all users. Each lesson comes with 10-20 vocabulary words which are also available as flashcards with 2 example sentences each. Some cards have pictures as well! You can also learn free Chinese PDF lessons from TutorMandarin website. So you can see the Chinese sentences to English sentences in PDF.
English Chinese Translator
| | |
| --- | --- |
| Cost | Free |
| In-App Purchases | Yes |
| Android | Google Play |
| iOS | NO |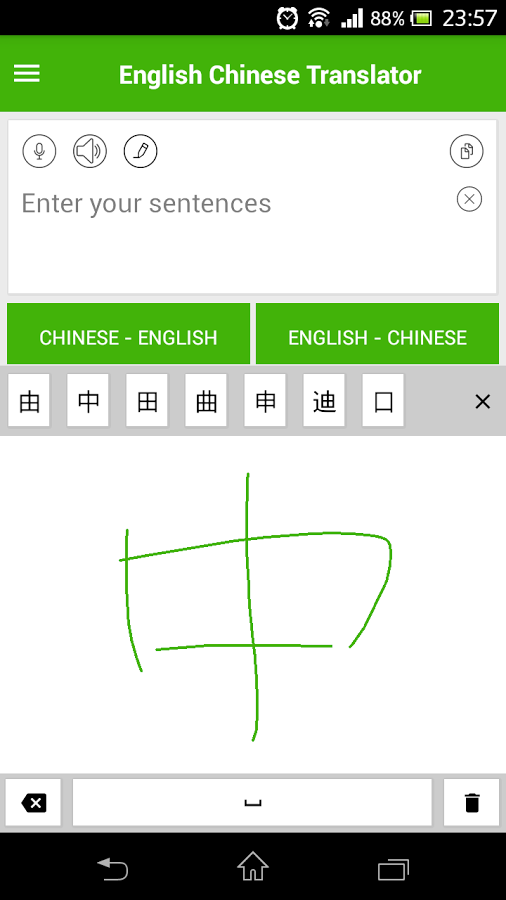 English Chinese Translator is an easy application supports translating Chinese into English and from English to Chinese. This app is used to support language learning Chinese, English, new words. It can also be used as the Chinese translation document translation site, translate a message, translated description and available Simplified/Traditional characters and handwriting. Don't forget to download this great app.
Features
Translate the word, sentences.
Translate from a clipboard.
Support read both Chinese and English.
Simple user-friendly interface is easy to use.
Chinese English Dictionary
Mandarin Translator
| | |
| --- | --- |
| Cost | Free |
| In-App Purchases | Yes |
| Android | Google Play |
| iOS | NO |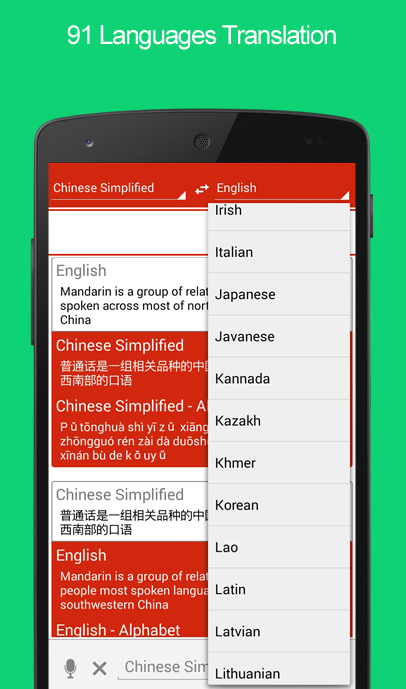 Mandarin is a group of related varieties of Chinese spoken across most of northern and southwestern China. This app can translate Mandarin to 91 different languages with main translation Mandarin English Dictionary and English Mandarin Dictionary. Chinese Simplified Dictionary Translator and Chinese Traditional Dictionary Translator are included. Get the Mandarin Translator app for FREE download.
Features
Copy Paste input text translation.
Copy Output translation (native and alphabet).
Voice recognition input or Speech recognition.
Voice translator, automatic sound translation.
 Over 90 languages text conversation.
These are the best Chinese translators that I want to recommend you to learn. Among the above mentioned, which one is your favorite? Do you have any other similar Translator services? Share with us by adding a comment below. Enjoy!