TutorMandarin
Chinese Language Learning System
Chinese Language Learning by HSK and CEFR Standards
Our Chinese language learning system uses an architecture of seven modules that are all based standards set forth by both the Chinese Proficiency Test HSK (Hànyǔ Shuǐpíng Kǎoshì) CEFR. While these 7 modules match up with the HSK, we have given our names to each section based on how well you'll be able to use the language after completing the level. Our Chinese language learning modules break down into "Pinyin," "Self," "Surroundings," "Situational," "Stance," "Spontaneous," and "Self-actualized." This means that our Spoken Chinese Course B1 will teach you the same things as HSK 1, which is mostly about learning how to use Chinese to talk about your "Self." Our Spoken Chinese B2 Course uses HSK 2 standards to help you move from talking just about your "Self" to talking being able to talk about your "Surroundings." As you progress through the modules you will eventually go from "Self" to "Self-Actualized."
A confident, fluent Chinese speaker. 
TutorMandarin Chinese Language Learning Modules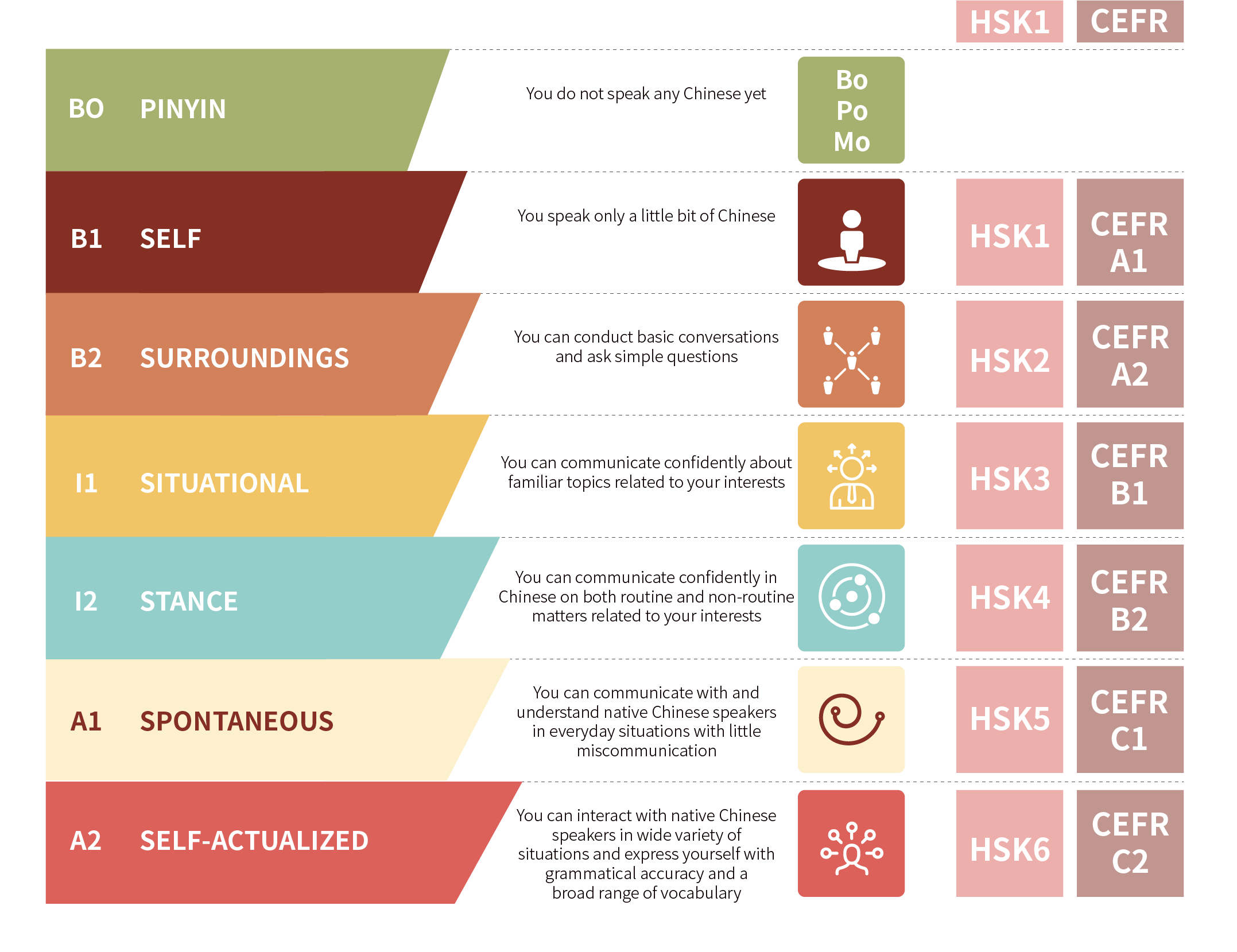 Not sure what Chinese level you're at?
Before starting your Chinese language learning journey, you must know what Chinese level you're at. If you are an absolute beginner in Chinese language learning, then you can start with Pinyin course in the B0 module. If you're above that, check out our beginner, intermediate and advanced course. Click inside each course/level for a full description of what you can achieve currently, what you will learn, and in what amount of time.  Also, feel free to test your Chinese level with 5-minute Chinese quizzes on our website. Just a reminder, all students who sign up for a Chinese language learning free trial will get a free 50 minute, a 1-on-1 class that provides a full Chinese language learning evaluation from a qualified Chinese tutor. If you want a more specific and accurate understanding of your Chinese level, our tutors are here for you!
Chinese Language Learning Courses
Within this educational system, TutorMandarin offers several systematic step-by-step courses for students to choose from. If you would like to enhance your spoken Chinese, we have Spoken Chinese classes with practical and common topics. If you're looking to take the HSK, we have courses for that as well, taught by professional and certified tutors who have the experience to help you succeed on your exams. TutorMandarin's classes are designed based on HSK and CEFR test, we make sure our students to have a full understanding of their level and to improve in the right direction. 
If you are planning on a business trip or starting to work in a business in Chinese countries, Business Chinese classes are ready. Are you planning to cultivate language sense for your children? Do you know that learning a second language since childhood brings so many benefits? Better cognition ability, problem-solving ability, cultural understandings, articulation, and in the future, language advantages! If you were looking for an online professional native tutor who can motivate your kids to fell in love with Chinese language learning, Kids Chinese is exactly what you need. 
What's more special about TutorMandarin online courses is the topic class. If you are tired preparing for the exams, take a rest and choose an interesting topic you can talk in English. The topic class is a 25-minute course that you can choose whether in culture, food, travel, survival, or whichever topic you like to learn and talk about. The topic class enables you to find your deeper interest and motivation in Chinese and also learn with professional tutors step by step.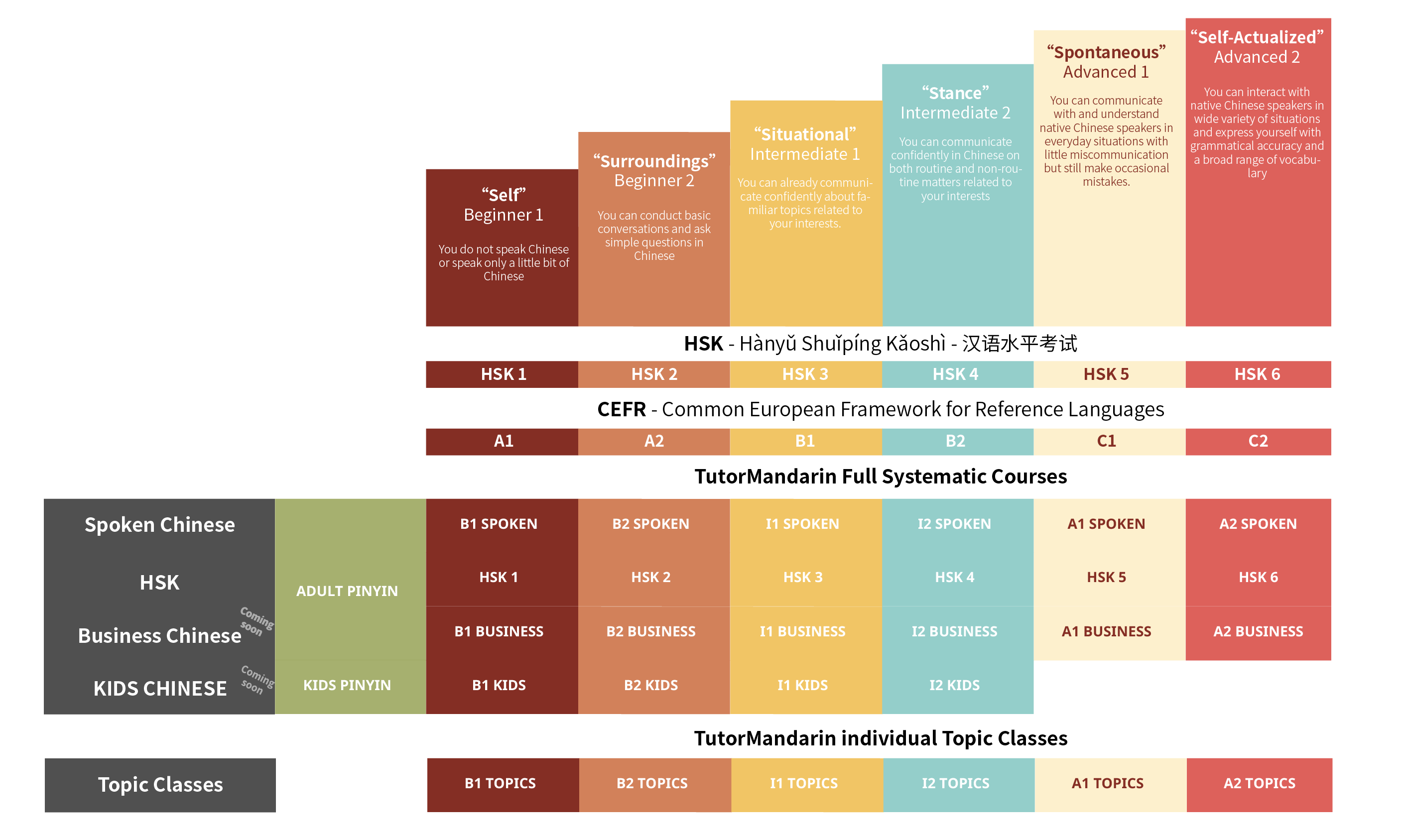 Chinese Language Learning Course Breakdown
Follow our systematic Chinese language learning modules step by step. Our courses are made up of a total 45 lessons. The review work is so much important. Each course breaks down into 5 regular lessons followed by a review lesson. The review lesson focuses on all important vocabulary and grammar in the previous 5 lessons. The last lesson in the 45-lesson course is an 'overview' that reviews the entire course. The effective 1-on-1 lessons and reviews make sure our students have the best Chinese language learning progress. 
In each class of Chinese language learning, we provide rich and solid content starting from the preview, or warm up, new vocabulary, grammar, conversation, practice, and discussion. Every class would make you more familiar with the previous content as well as keep up your Chinese skills by complete and student-centered practices. Take a look at some of our Chinese free PDF lessons, you'll love it. Our lesson contains lots of practices and examples that can help you recognize Chinese more efficiently. 
     The different courses all break into every level. If you are interested in topic class and wondering is there your level, don't worry. We'll try as best as we can to design every Chinese language learning course in your level. In the total 45 lessons, you'll find out your huge progress and improvement in speaking Chinese. The class breakdown here shows you how we lead you through solid courses step by step in Chinese language learning journey.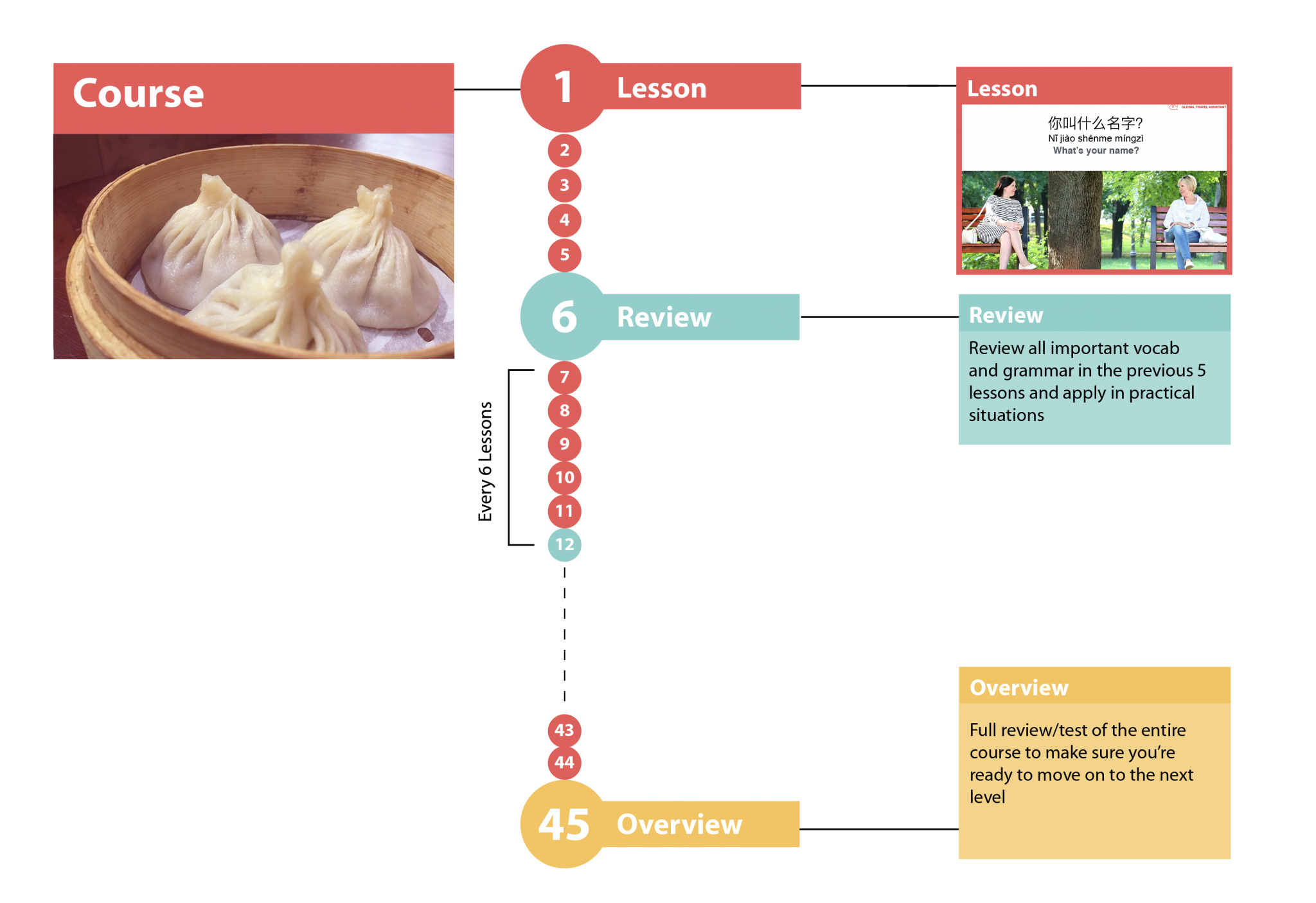 Try it for yourself
Get a free language evaluation and take a free trial so that you can see what level you're at and what module suits you in your Chinese language learning path.
Welcome to take the 5-minute Chinese language quiz as well as professional evaluation in a free trial to decide the most suitable courses for you. With specific level and learning goals, we will help you learn to speak Mandarin fast and progress as fast and solid as you can. Your Chinese language learning doesn't have to be difficult, as long as you use the right learning approach.