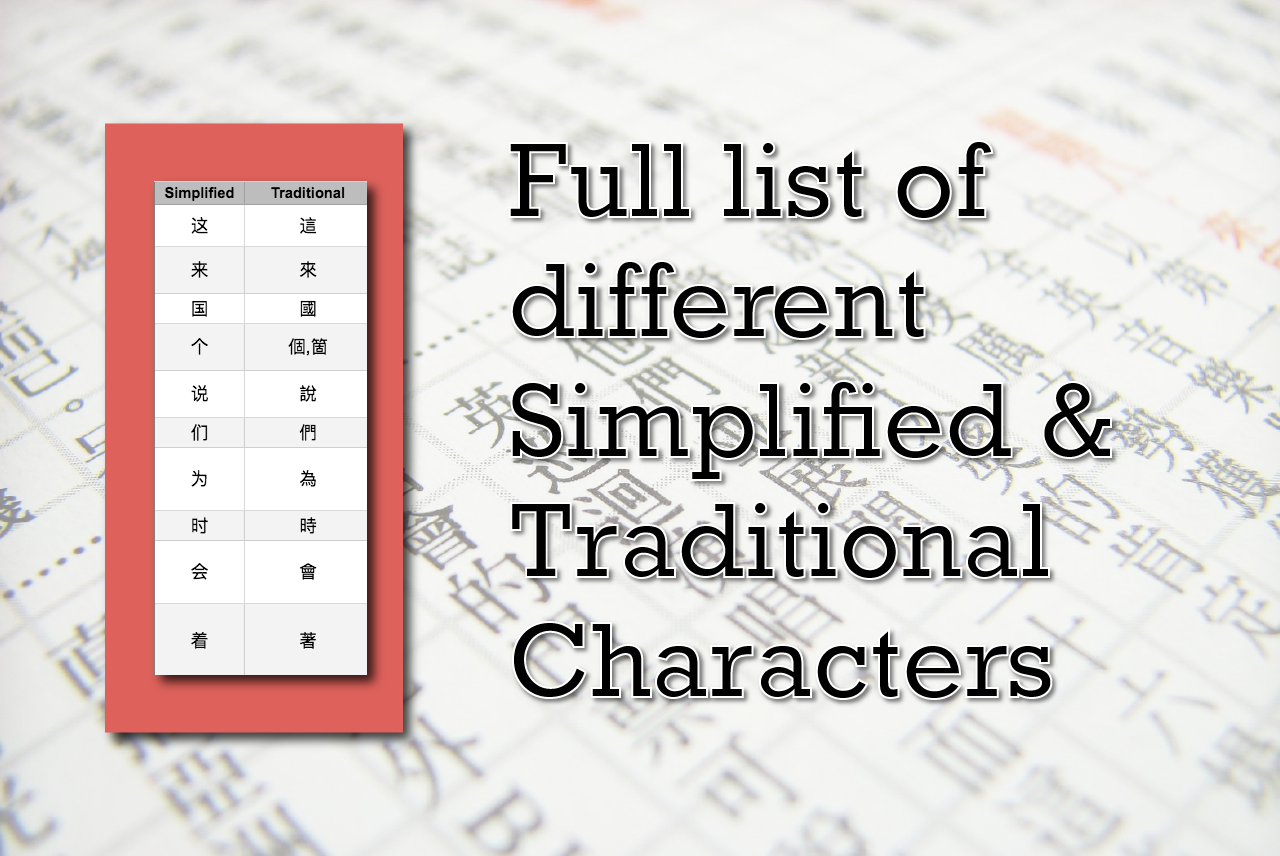 What is this list of different Simplified and Traditional Characters?
Chinese has several written variations including Traditional Chinese and Simplified Chinese. Mainland Chinese typically use Simplified Chinese Characters, but Taiwan, Hong Kong, and others still use Traditional Chinese Characters. Simplified Chinese in Mainland China is a recent phenomenon and has only been incorporated nationally since the 1950s. That means, all Chinese written before 1950 was/is Traditional Chinese!
That being said, Traditional Chinese and Simplified Chinese still share many characters that are written exactly the same! So if you know Simplified Chinese and want to learn Traditional Chinese, you only need to learn the DIFFERENT characters. That's what this list is about.
This is a full list of the different simplified and traditional characters. On the left side is the Simplified Chinese character and the second column has the Traditional Chinese character. Words are listed accordingly to difficulty and HSK.
How to use it for learning Traditional or Simplified Character?
Feel free to study a few words at a time or make your own set of flashcards. This is a table made with google sheets, so you can copy it into your own excel at any time. Some of the words look similar already and you can maybe even read it correctly right off the bat. If you want to learn to write these characters, considering using a dictionary or writing apps like Hanping Chinese, Skritter, Zizzle, or DuChinese.
Who should use this list to learn Simplified and Traditional Characters?
This list is perfect for anyone that has learned Simplified Characters and now wants to learn Traditional Characters (or vice versa!). If you studied Chinese in China and then moved to Taiwan, this is for you. If you've learned Chinese but want to be able to read some old Chinese text, this is for you. If you're in Hong Kong and planning to move to the mainland, enjoy.
Either way, if you're learning Chinese, you can take courses with TutorMandarin in Simplified or Traditional Chinese. Sign up for your free class today to see if you like it!