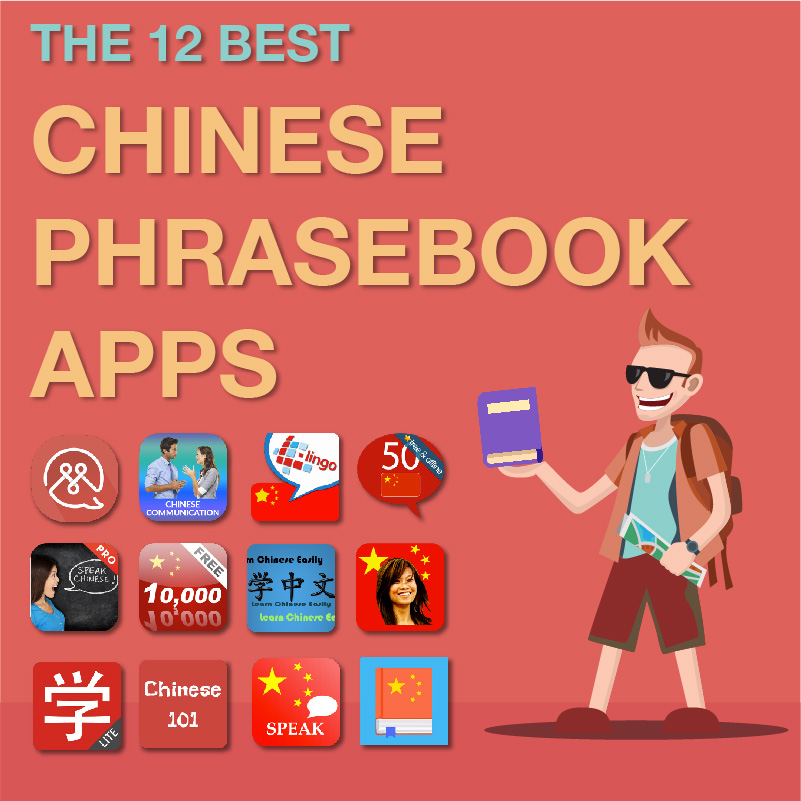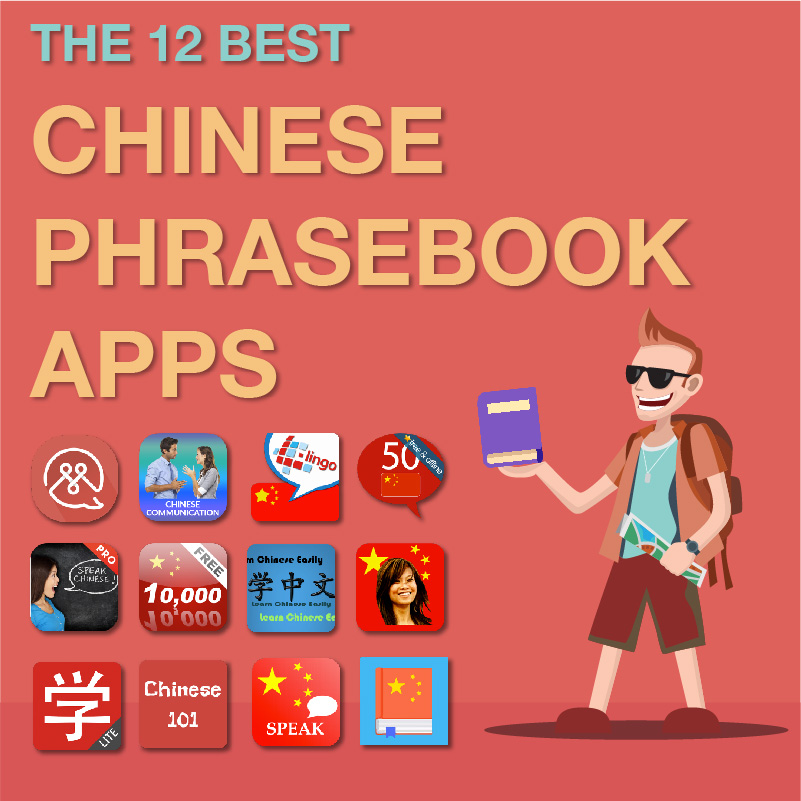 12 best Chinese phrasebook apps
It's time to learn Chinese phrases. Are you traveling to China or maybe just starting your learning Chinese journey? Well, it's best to get moving quickly by learning the most commonly used Chinese phrases and words. But how to learn them most efficiently? Most effectively? Most… easily???Through the best mandarin learning software!!
Below is a list of 11 apps that all put hundreds of Chinese phrases right in your pocket. Several have free audio, can be used offline, or have important example sentences. See which phrasebook is right for you — or download them all! It's up to you.
Learn Chinese – Phrases, and Words, Speak Chinese
| | |
| --- | --- |
| Cost | Free |
| In-App Purchases | No |
| Android | Google Play |
| iOS | No |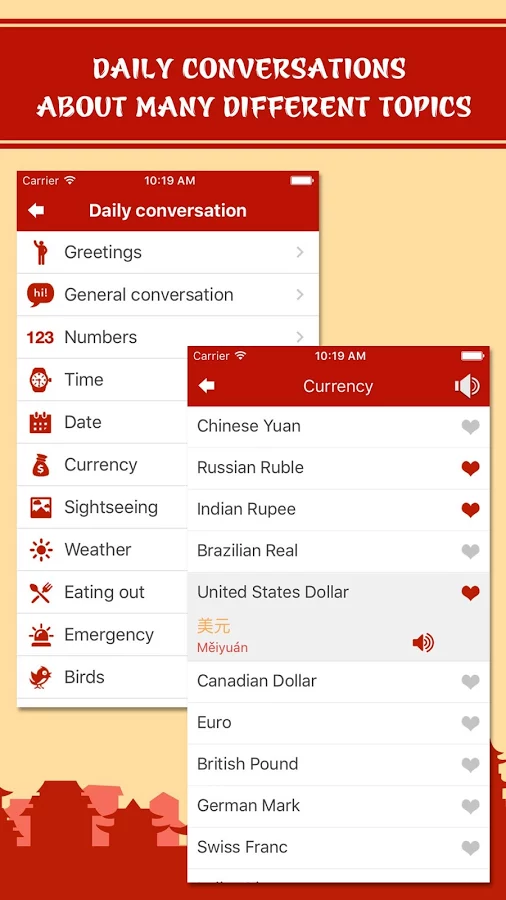 A nice free Chinese phrasebook app. If you're traveling and just want to learn some simple phrases — this is fine for you! It has all basics like the Chinese alphabet (Pinyin) and then moves on to basic words which are compiled into simple sentences.
Highlights include:
2000 most popular Chinese words
Chinese Pinyin and pronunciation + Audio
Famous Chinese idioms with interesting stories
Learn Chinese Mandarin | L-Lingo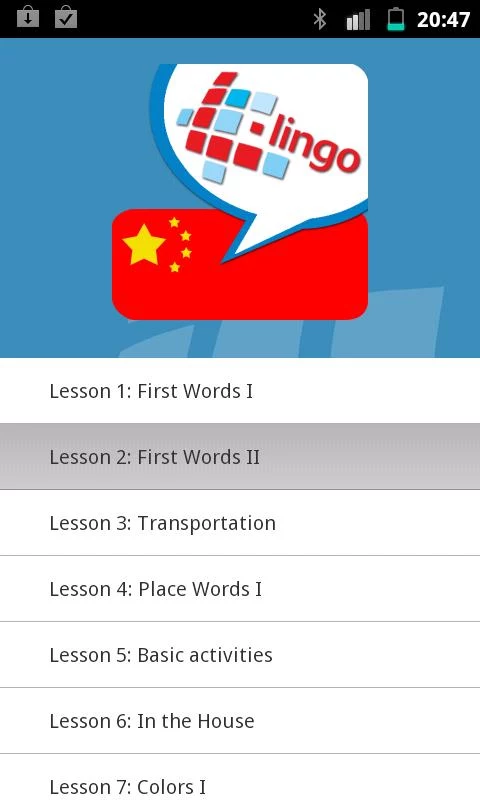 The best part of L-Lingo is that it is easy to use! You can learn Chinese words and basics with lots of multimedia channels that include full audio recordings of native speakers. Plus, several flashcards and examples come with pictures to help you learn and master Chinese more quickly. This is a perfect app for learning Chinese on the go or learning Chinese on the road. Going to China? Download this app along the way.
Highlights include:
Thousands of words and sentences -all visualized with images
Full native speaker pronunciation
Clear and easy to understand the design of the program
Switch between Chinese Script or the easier to read Phonetic Script (pinyin)
TutorMandarin – Top Choice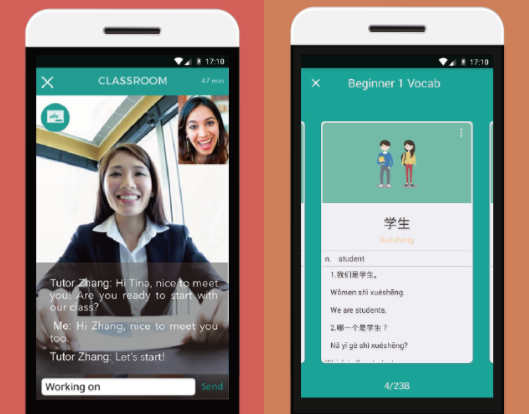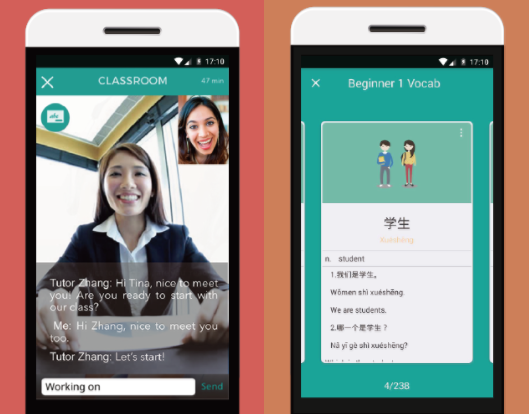 Tutormandarin is a one-stop shop for learning Chinese. Not just a simple phrase book, Tutormandarin has full courses from beginner to advanced with 45 lessons in each course. All pinyin and beginner 1 lessons are free to all users. Each lesson comes with 10-20 vocabulary words which are also available as flashcards with 2 example sentences each. Some cards have pictures as well!
Courses are built around the HSK educational framework. Learning Beginner 1 with Tutormandarin will teach the 315 words in HSK 1 with flashcards for each. Beginner 2 will help you learn the next 315 words. Plus, all the necessary grammar at the same time.
If you're looking to apply your newly learned knowledge and words with a real teacher — Tutormandarin has a robust virtual classroom that puts to shame simple video messaging apps. Here you can experience a class with full lesson PDF on an interactive whiteboard while seamlessly switching back to the video and messaging at your convenience.
The other point here is that Tutormandarin is not just a language exchange. Tutors are professional with certifications and they are using a curriculum designed around HSK standards to learn in a systematic and efficient way. Plus all people looking to learn Mandarin get a free trial class just for signing up.
Learn Chinese Communication
| | |
| --- | --- |
| Cost | Free |
| In-App Purchases | No |
| Android | Google Play |
| iOS | No |
This is an app for quickly learning to communicate in Chinese. Similar to other apps, it has over 2000 commonly used Chinese phrases and vocabulary words — the ones most necessary for travelers to China or recent expats that are trying to survive daily life.
Learn Chinese communication highlights essential phrases that you should learn first and makes it easy to store and manage the items that you "favorite." Also, the UI is quite appealing (more so than some of the simpler, more minimal apps). Another bonus is that this app works offline (a must for travelers!) so you can learn to speak Chinese daily while listening whether you have WIFI or not.
Learn Chinese Easily
| | |
| --- | --- |
| Cost | Free |
| In-App Purchases | No |
| Android | Google Play |
| iOS | iTunes |
It's time to learn Chinese in a way that's uniquely interactive and… relaxing? The phrases and sentences give you a continuous opportunity to steadily practice and master Chinese in a way that connects images with Chinese words in your mind.
The interface is a lot bigger and bolder than other apps, which makes it a little crude looking — but also easy to navigate and use. Lots of free lessons with free tests to enjoy at the same time.
Talk Chinese (Free)
| | |
| --- | --- |
| Cost | Free |
| In-App Purchases | No |
| Android | Google Play |
| iOS | iTunes |
This is almost like an old-school calling board for audio and Chinese word meanings. The bottom menu lets you choose among 4 basic categories (basics, fun, emergency, info) — each of which brings up a screen full of the 12-20 most important phrases in the category. At present this is good for the urgent and necessary situation. If you need police, doctor — you're a quick button press away from help! However, it's not a very full or systematic way of learning Chinese phrases.
Highlights:
Clear audio recordings by a native Chinese
Organized in 3 categories
Can use offline
Chinese HSK 1 (Lite)
| | |
| --- | --- |
| Cost | Free |
| In-App Purchases | Yes |
| Android | Google Play |
| iOS | No |
This app is not just Chinese phrases — but all the Chinese phrases and words necessary to pass HSK 1. As opposed to simpler phrase apps, this is an app to systematically all the word you need to pass the HSK 1 test. It comes with words, definition, and example sentences for each word. There are more than 10 different games and 1000 different challenges once you get into it. Simplified and traditional characters both provided and native Chinese audio. Bonus — works well on a tablet, too!
Highlights
Dictionary with the 152 HSK level 1 words
Simplified and Traditional hanzi characters
Save your words in your starred list
Search words by meaning, hanzi or pinyin
Voice search (Chinese and English, requires internet connection)
77 sentences and expressions spread over 9 everyday topics
Chinese lessons (only in English, requires an internet connection
Learn Chinese 10,000 Mandarin
| | |
| --- | --- |
| Cost | Free |
| In-App Purchases | Yes |
| Android | Google Play |
| iOS | iTunes |
Listen and learn with this Chinese phrasebook!  This app contains the 10,000 most practical and authentic audio sentences that are widely used in the daily communication in China. The sound library is incredibly useful in getting used to listening and understanding Mandarin. Free version with limited content with the option of the paid version.
Customers say — "Very useful sentences! Worthwhile download."
Learn Chinese Offline
| | |
| --- | --- |
| Cost | Free |
| In-App Purchases | Yes |
| Android | Google Play |
| iOS | No |
This is a handbook of Chinese essential phrases and sentences. Designed for visitors to China that are interested in learning. LIke other phrasebooks, audio is recorded by a native speaker and the company has promised to ensure authentic pronunciation.
Learn Chinese Mandarin Free contains over 1300 commonly-used Chinese phrases and vocabularies for travelers and Chinese beginners in 18 categories.
Learn Chinese – 50 Languages
This app contains 100 lessons with basic Chinese vocabulary (30 comes free). All sentences come with both audio and text for multi-sensory learning. Similar to the HSK1 APP — this is based on an educational framework, the Common European Framework. It makes things organized and suitable for all types of schools and students.
Sentences are designed to help you quickly learn Chinese and apply it in various situations (hotel reservations, small talk, meeting new people). As a bonus — you can download the audio files and listen to them anywhere!
Learn Chinese
| | |
| --- | --- |
| Cost | Free |
| In-App Purchases | Yes |
| Android | Google Play |
| iOS | iTunes |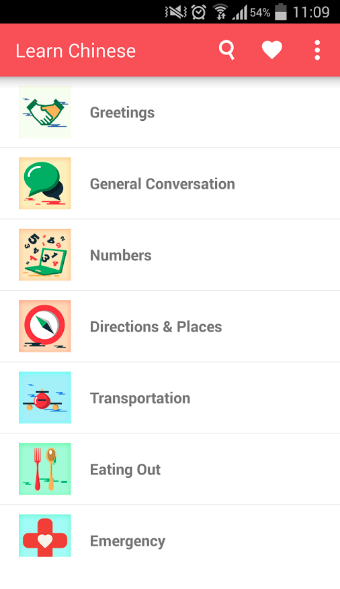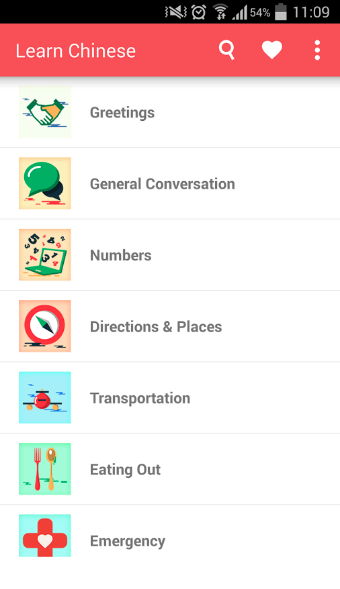 Enjoy a mobile Chinese phrasebook meant for those learning Mandarin or traveling to China. Recommended for tourists and business people visiting China.
Highlights:
Carefully translated list of essential phrases
High-quality audio pronunciation by a native speaker
No internet connection required
Learning Chinese 101
| | |
| --- | --- |
| Cost | Free |
| In-App Purchases | No |
| Android | Google Play |
| iOS | No |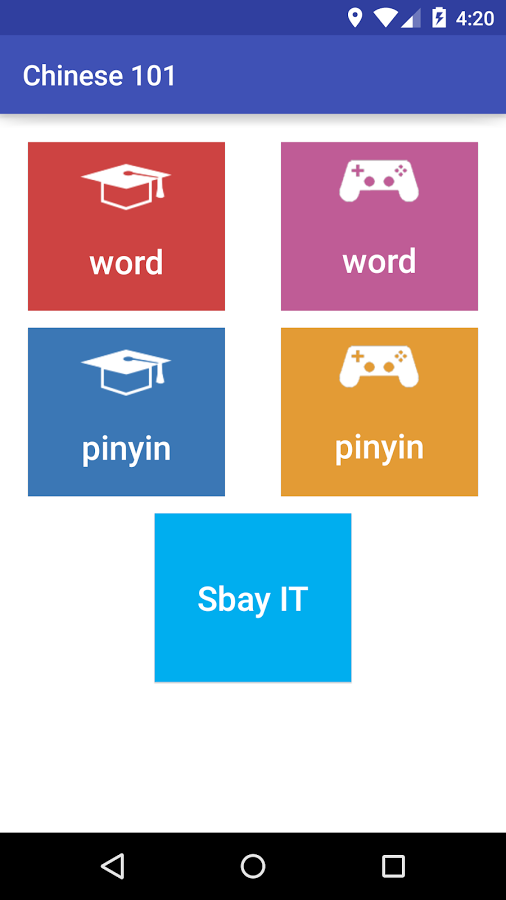 This app is pretty bare bones — but just the ones you need! If you want a minimalistic experience but still learn the necessities, then this might be the app for you. Appropriately named Learning Chinese 101 includes words and pinyin lessons that are divided by categories like greetings and introductions. You will learn Chinese characters, pinyin, plus, there's audio from a native speaker. It even includes some test and games to make sure you're learning!
Enjoy our list of the best Chinese phrasebook apps.